What is the most prestigious full-size luxury SUV?
What is the most prestigious full-size luxury SUV?
Posted on November 10, 2022
Full-size SUVs are already generally considered very imposing in and of themselves, not only because of their larger dimensions, but also thanks to the power and towing capacities they offer. Adding high-end interior and exterior features to this, it is easy to understand how you end up with a stunning, luxurious and refined utility vehicle. It might even climb to the top of your list!
The 2022 Grand Wagoneer –and more specifically the Series III model- is indeed one of these vehicles. You will quickly see that it has nothing to envy from any of its competitors! Magog Concept tells you more about this prestigious luxury SUV.
General info
Offered at a base price of $ 119,995 before taxes, the Grand Wagoneer Series III is certainly not affordable to everyone. But for those who can afford the luxury of purchasing this type of vehicle, then you should know that it has illustrious competitors such as the Land Rover Range Rover, the Mercedes-Benz GLS and the Cadillac Escalade, amongst others.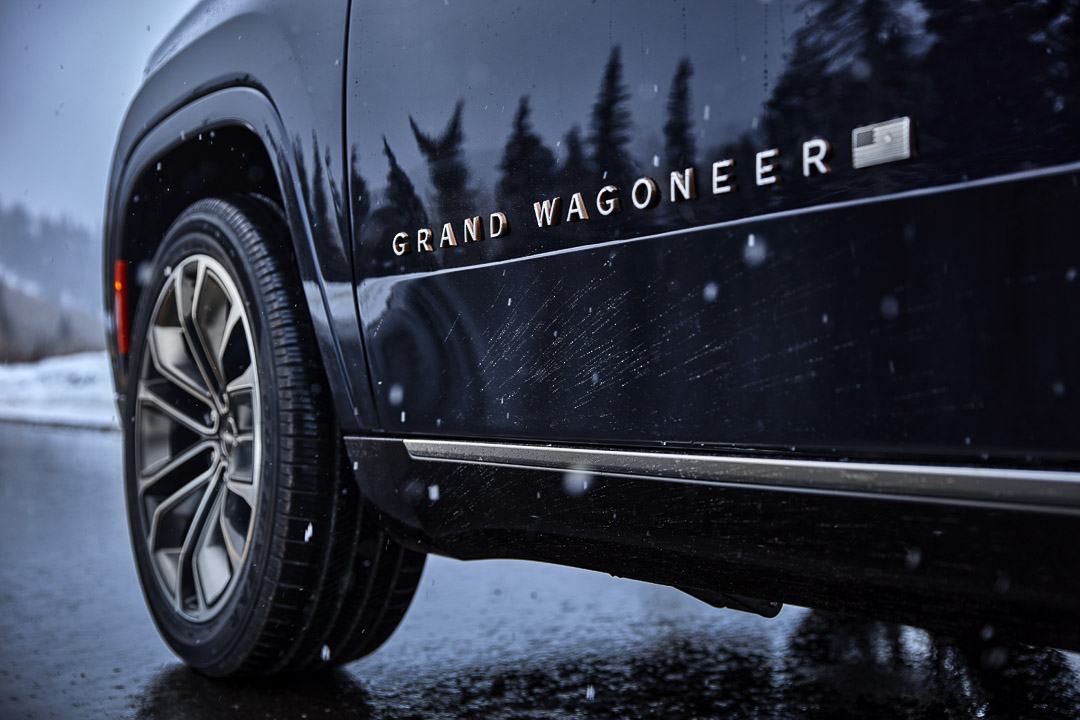 2022 Grand Wagoneer Series III
As you can see, the bar has been set very high, but the Grand Wagoneer places it even higher!
High-end features from the inside out.
When setting your eyes upon the Grand Wagoneer, the very first thing you will notice will obviously be its imposing and refined silhouette. Perched on 22- inch wheels and boasting a robust and elegant design, it offers –amongst other things- power side steps, LED headlights and taillights as well as a black roof, which gives it a bold and stunning look.
The interior is luscious and luxurious, with Palermo leather upholstery and quilted trims, a flat-base steering wheel, genuine wood trims and much more.
When it comes to added technologies, you will definitely be seduced by the impressive amount of touch screens, which include: a 12.1- inch main display screen, a 12.3- inch instrumentation screen, a 10.25- inch screen exclusively dedicated to temperature control, as well as a 10.25- inch screen for the front passenger, a first in the industry.
That is not all: rear passengers also have access to a 10.25- inch screen between the two front seats, as well as two 10.1- inch screens –one for each of the 2 rear passengers- that are inserted into the front seats' backrests.
Finally music lovers will be thrilled to know that the Series III is equipped with a 23- speaker McIntosh sound system, with a phenomenal power of 1,375 W.
Enough space for everything and for all
With enough room to welcome up to 7- passengers, the 2022 Grand Wagoneer Series III also offers extremely generous cargo space, which varies between 775 and 2,667 liters, depending on if 2nd and 3rd rows of seats have been folded down or not.
Under the hood
A full-size luxury SUV like the Grand Wagoneer definitely deserves a performant powertrain. You will have access to a 6.4 L V8 with 471 horsepower as well as an extremely efficient 4x4 system. It also offers a towing capacity that can reach up to 9,850 pounds (4,468 kg), which is the highest of its category.
As you can see, in light of all of the outstanding features the Grand Wagoneer Series III offers, it truly redefines the luxury SUV category. If you would like to learn more about it, come and visit us at Magog Concept today!
2022 Grand Wagoneer Series III